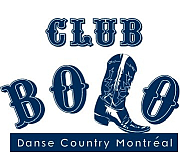 Bolo Newsletter
This Weekend at Club Bolo
Friday & Sunday: Closed for Easter Holiday 
Enjoy the long weekend everyone!
Anytime
Program of the spring session with step sheets [French] and videos on our website (remove the filter to see everything).
Club Bolo Teachings [French] and demos on YouTube: youtube.com/channel/UCPd0Vl9IavUscyo5RwzVjqg
U

pcoming Events
Club Bolo 25th Anniversary: Saturday, May 4
Our Club is 25 years old this year! Come and celebrate with us! Getting together and surprises guaranteed!
Saturday, May 4, 2019 from 8pm to 2am, Espace La Fontaine, 3933, avenue du Parc-La Fontaine, Montreal H2L 0C7.
35$ for members and former members, 40$ for all others. This entrance fee will cover the cost of the room and the snack…. And it will be a great snack: with a wide choice of refined appetizers! Nothing too beautiful for our 25th anniversary! Limited seating… Book your place here.
Benefit dinner show – Yvon et ses amis: Tuesday, May 14
By attending this evening of humour, you will contribute directly to the maintenance of the Association sportive et communautaire du Centre-Sud (ASCCS)'s youth programs, especially those that have the greatest impact on the development of school-aged and preschool-aged youth. BUY TICKETS
St-Jean Baptiste party: Friday, June 21

Invitation to participate in the Nuestroamericana Friendship Parade – Saturday August 10
The Parade is a multicultural event that values diversity, bringing together Aboriginal participants, Quebec and Canadian citizens and members of immigrant communities.
At the end of the tour, each group is invited to take turns on stage to offer the audience a performance that is representative of their repertoire.
If you are interested in participating, please let Diane know at vice-president@clubbolo.com as soon as possible, thank you!
Community Day: Saturday, August 17

Pride Parade:
Sunday, August 18
Partners
Club Bolo members in good standing are eligible for a free Équipe Montréal card that provides great discounts!
equipe-montreal.org
ASSCS (Club Bolo main dance location): Activities at the Association Sportive et Communautaire du Centre-Sud
asccs.qc.ca
Our Toronto friends website: torontowranglers.com
Village Western in Laval offers a 15% discount to Club Bolo members.
5199 des Laurentides, Laval. Bruno 450 628-1999
www.villagewestern.com    info@villagewestern.com
Sellerie Lemay in Montreal offers a 15% discount to Club Bolo members.
6951 Rue Notre-Dame E, Montréal. 514 254-0172
www.sellerielemay.com
Find shirts, accessories and country outfits at Modestone, our official Club Bolo show supplier
10% discount for Club Bolo members. Lachine 514 364-9239
modestone.com