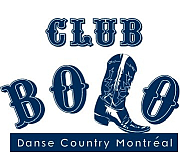 Bolo Newsletter
This Weekend at Club Bolo
Friday – 7:30 pm to midnight: St-Jean Baptiste Day!
Wear blue for the occasion!
Last evening before a summer break, we will be back on Friday, August 2.
Your volunteers:
The decoration committee: Louise and her team
Management: Paul N
Reception: Olivier
Bar: Jocelyn & Louise
DJ: Pierre
Sunday – Closed
A
nytime
Step sheets [French] and videos on our website clubbolo.com/en/choreographies/.
Total payment time off on June 15 and July 15. Half price on August 15th ($15)  🙂
Summer impromptu challenge workshop
New challenge workshop this summer for those who want to try it. 🌞
Here is the demo link + classes to practice at home:
https://www.youtube.com/watch?v=75XCZo4aTTA
If you wish to join us, we can practice together. Weekly sessions can be held in improvised locations.
U

pcoming Events
Rainbow game, with the Montreal Impact: Wednesday, June 26
In collaboration with Fondation Émergence, Équipe Montréal is organizing the rainbow game, with the Montreal Impact, to fight homophobia in sport. The game will take place on Wednesday, June 26, at 7:30 p.m. at Saputo Stadium.
Équipe Montréal (to which Club Bolo is affiliated) invites you to attend the game. Bring your Rainbow flag. We have booked a section just for us. The cost of the ticket is $30. All the information is on the attached poster. It is the time of year to show the population that the LGBT+ community and its Allies love and practice sport. Be many to say NO to homophobia.
The price of the ticket is $30 and to get it, you must click this link.
Thank you and have a good game!
The "Rainbow Matches" Committee – Équipe Montréal – www.equipe-montreal.org – www.facebook.com/equipemontrealLGBT
Club Bolo reopens after summer break: Friday, August 2
Entertainment at the Parc des Faubourgs: Wednesday, August 14
For the 2nd time in a row, during Pride Week, Club Bolo will have the pleasure of hosting an evening of dance under the tent, at the Parc des Faubourgs. Teaching of 2-3 dances and entertainment on the programme! Come and participate, to watch or dance and thus serve as a "pillar" for the participating audience.
Community Day: Saturday August 17

Pride Parade:
Sunday August 18
The Parade (this year: Sunday August 18th) gives the Club an extraordinary visibility (we have already made the front page of La Presse). It is therefore a recruiting method to be used.
The energy and interaction with the public is exceptional. It is a festive and unique event, all our members have their place, whatever the orientation, to dance, to carry the banner or water, etc. The 2.7 km parade's route will symbolically link the old and the new as it departs from the former west end LGBTQ+ sector to arrive at the very heart of the new Village. Following its traditional route along René-Lévesque boulevard, the parade will begin at Metcalfe Street, to end on Alexandre-DeSève Street.
Registrations are now closed (but of couse you still can attend this joyful and colourful moment).
Participants: review your dances with these video lessons:
Volunteers' Barbecue: Sunday August 25
Club Bolo animates an evening on the esplanade of Place des Arts: Saturday September 14
Ottawa Hoedown: October 25-27
For more detail and to register: click here.
Partners
Club Bolo members in good standing are eligible for a free Équipe Montréal card that provides great discounts!
equipe-montreal.org
ASSCS (Club Bolo main dance location): Activities at the Association Sportive et Communautaire du Centre-Sud
asccs.qc.ca
Our Toronto friends website: torontowranglers.com
Village Western in Laval offers a 15% discount to Club Bolo members.
5199 des Laurentides, Laval. Bruno 450 628-1999
www.villagewestern.com    info@villagewestern.com
Sellerie Lemay in Montreal offers a 15% discount to Club Bolo members.
6951 Rue Notre-Dame E, Montréal. 514 254-0172
www.sellerielemay.com
Find shirts, accessories and country outfits at Modestone, our official Club Bolo show supplier
10% discount for Club Bolo members. Lachine 514 364-9239
modestone.com